Brake Service, Repair, & Replacements
If you have an issue with your brakes or suspect an issue then Virginia Tire & Auto's certified technicians and service managers will recommend the necessary brake repair to get you stopping safely. Every time.
At Virginia Tire & Auto, we offer a free visual brake inspection*** which includes a measurement of brake pads/shoes and a brake fluid test. This is recommended when you are unsure whether your vehicle needs new brakes. During your inspection, our certified technicians will let you know what brake service is recommended for you.
If your brakes need service, our expert technicians are equipped to perform any brake repair, including installing new brake pads and resurfacing or replacing the rotors.
We have shopped the Northern Virginia market and our $276 price* for new brake pads and resurfaced rotors beats Merchants, Mr. Tire and all local dealerships.**



Pricing/Warranty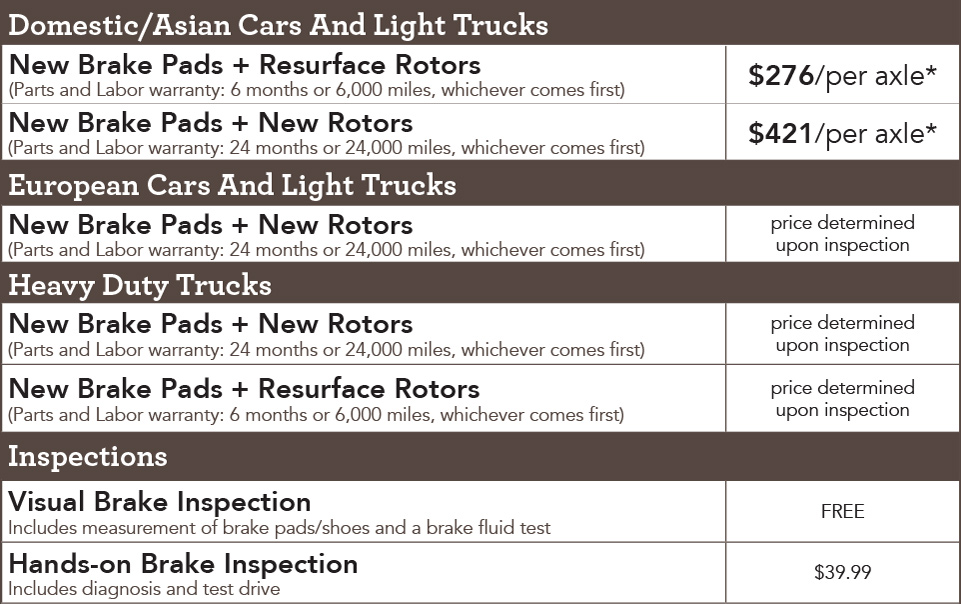 Other brake services
Virginia Tire & Auto also services the following brake components:
Master Cylinders
Brake Calipers
ABS Actuators and Pumps
Brake Pads/Shoes
Brake Hoses and Lines
Wheel Speed Sensors
*Most vehicles. Taxes and shop supplies not included.
**Based on January 2016 pricing survey for new pads and resurfaced rotors.
***Complete brake inspection includes diagnosis and test drive: $39.99
---
Helpful Tips To Keep Your Brakes Running Longer
5 Brake Warning Signs
7 Ways To Maximize Brake Life
---