Virginia Emissions Testing & Safety Inspection
Efficient, thorough, top-notch service? Check.
When it comes to Virginia State Inspection and Virginia Emissions Inspection, we offer more speed and convenience than any competitor in Northern Virginia. Most of our locations are open on Sundays, feature two dedicated inspection bays, and are staffed with multiple certified inspectors. That means you won't have to wait behind customers who need oil changes and repairs. See us for the most efficient, attentive, honest service around. Virginia Tire & Auto shops are the perfect choice for vehicle inspection service in Northern Virginia.
Virginia State and Virginia Emissions Inspection Fees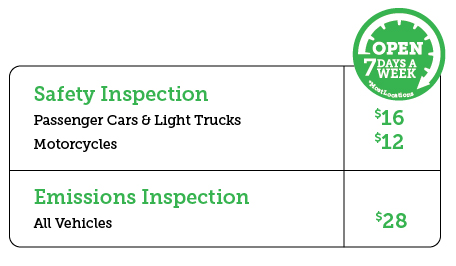 For more information, please call 1-855-425-3677
We service all major automotive brands including Acura, BMW, Cadillac, Chevrolet, Chrysler, Dodge, Ford, GMC, Honda, Hyundai, Infiniti, Jaguar, Jeep, Lexus, Mazda, Nissan, Subaru, & Toyota
Virginia Safety Inspection Program
Virginia Motor Vehicle Safety Inspection Program
We follow the regulations and specifications of the VA Motor Vehicle Safety Inspection Program to the letter. The Required Official Inspection Procedure, as approved by the Virginia State Police Superintendent, is as follows:
Remove old inspection sticker
Drive vehicle into inspection lane
Inspect:


Brakes
Parking brake
Headlights and other lights
Signal device
Steering and suspension
Tires, wheels, and rims
Mirrors
Horn
Windshield and other glass
Windshield wiper/defroster
Exhaust system
Rear license plate
Hood and area under the hood
Air pollution control system of 1973 and subsequent models
Driver's seat
Seat belts
Air bag and air bag readiness light
Doors at the right and left side of the driver's seat
Fuel system
Floor pan

Issue sticker