New Tire Installation
In need of new tires? All of our 13 Virginia Tire & Auto locations have state-of-the-art equipment, are stocked with the largest selection of new tires in the area and are able to install tires on all domestic and foreign makes and models.
Our team of friendly, knowledgeable mechanics are certified by the Tire Industry Association and are experts on maintenance, reprogramming and diagnostic issues for Tire Pressure Monitoring Systems. That means they have the expertise and tools to perform your tire installation quickly and safely.
Available Brands
We have thousands of tires in stock from leading brands, such as:
How to get the most mileage out of your tires
Tires need proper care to perform and last as designed. To get the most mileage out of your tires, follow these proper practices:
Regular tire rotation: For most vehicles, a tire rotation is recommended at every oil change interval. It's also a smart idea to have a skilled technician inspect your tire's tread wear at every rotation. Preventatively correcting these issues avoid rapid tire wear out (saving you money and keeping you safe).
Periodic tire balance: Tire imbalance can lead to excess pressure and wear over time. If your steering wheel is feeling wobbly, you should consider stopping by for a tire installation to get them rebalanced.
Proper tire inflation: It's important to check each tire's air pressure monthly. When a tire is under-inflated, the majority of the car's weight shifts from being spread out evenly across the width of the tire to being concentrated on the tread that is located just under the sidewalls. In fact, failing to maintain proper tire inflation can decrease the life of the tires by up to 25 percent or more. Don't let that happen to you!
Regular wheel alignment: Improper wheel alignment causes tires to wear unevenly and prematurely. If your car is pulling in one direction, it's probably time for a wheel alignment.
Filling tires with pure nitrogen
Did you know pure nitrogen maintains tire pressure three to four times longer than air? As it turns out, nitrogen prevents tires from overheating, promotes a better tread life and reduces wheel corrosion -- which makes it great for extreme conditions (think winter weather). Just don't forget you still need to check your tire pressure regularly.
Should you buy used tires?
In short, no. According to Consumer Reports, vehicle owners should not purchase used tires. Tires are made of rubber compounds, which age over time even if they are unused or slightly used. Without knowing where the tires have been or how they've been used, you can't be sure if they're safe to use (even if there's no external or visible damage).
Tire Warranty
Every tire purchase includes:
Free lifetime tire rotations and free lifetime tire balancing
Free alignment check
30-day ride guarantee
See our full warranty for complete details and limitations, and learn more about how specifically a warranty for new tires works compared to other warranty types.
Find the best new tire installation in Northern Virginia.
At Virginia Tire & Auto, we service all major automotive brands including Acura, Audi, BMW, Cadillac, Chevrolet, Chrysler, Dodge, Ford, GMC, Honda, Hyundai, Infiniti, Jaguar, Jeep, Kia, Lexus, Lincoln, Mazda, Mercedes, Nissan, Subaru, Toyota, and Volkswagen.
Warranty
Parts: 24 months or 24,000 miles, whichever comes first.
Labor: 24 months or 24,000 miles, whichever comes first.
Ready for your new set of wheels (literally)? Visit the tire installation experts at any one of Virginia Tire & Auto's 13 convenient Northern Virginia locations. Schedule an appointment with us today.
---
Helpful Tips To Maximize The Life Of Your Tires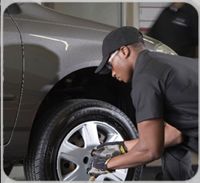 Importance of tire rotation