Keep your engine cool with Coolant System Care
Did you know that your vehicle's cooling system is responsible for regulating the temperature of all the components shown below?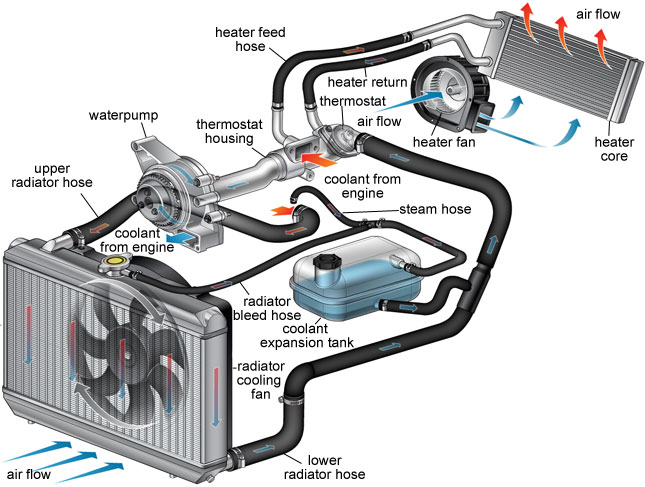 These cooling system regulates the temperature of all these important parts of your car:
Engine
Radiator

Radiator Hoses

Coolant Expansion Tank
Waterpump
Thermostat Housing
Heater Feed Hose & Heater Return
Heater Fan

Heater Core

The function of your vehicle's cooling system is very important! It protects the vehicle from overheating, damaging the engine and breaking down. During the winter months, your vehicle's cooling system prevents the engine and its parts from freezing.
Cooling system failure is one of the most common causes of car problems and breakdowns. Issues can arise from low coolant levels, old coolant or coolant leaks. Proper maintenance can help prevent these types of issues. Check your vehicle's owner manual to learn when your vehicle's coolant should be flushed and refilled. Typically, a Coolant Flush is needed every 2 to 3 years, or 24,000 to 30,000 miles, whichever comes first.
Your vehicle's cooling system should be flushed & refilled based on several factors:
1. Your vehicle's engine size
2. Mileage
3. Climate your drive in
4. The age of the coolant
5. The type of coolant
6. Your vehicle's manufacturers recommendation
Engine damage from overheating can be costly to fix so it's important to maintain your vehicle's cooling system properly. If you suspect a leak, drive to your closest Virginia Tire & Auto location (we have 12 NOVA locations!) and our ASE experts will take a look.
If you think it's time to schedule your Coolant Flush service, click HERE to make an appointment.